Article and recipe by Tiziana Ricciardi (@deliziosavirtu)
These Reginette are a very tasty first course dish of typical autumn flavours. The pasta is dressed with mushrooms and speck and is served on a delicious saffron cream.
I used Sgambaro Yellow Line Reginette, 100% Marco Aurelio wheat pasta, an Italian grain, delicious, very resistant and high performing. It is also processed slowly with gentle bronze-drawing and long drying. This format is very good for capturing creamy dressings: an excellent pasta, that never overcooks and keeps all of its organoleptic properties until it is on your fork.
Mushroom and speck is a classic combination, but I have made it even more indulgent thanks to the enveloping and fragrant saffron sauce. A simple dish that makes a good impression at the table, to amaze your guests, but also for a special family lunch.
Ingredients (serves 4)
320 g Sgambaro Yellow Label Reginette
500 g pioppini mushrooms
50 g speck
Salt, pepper and extra virgin olive oil
For the saffron sauce
200 g of spreadable soft cheese
50 ml fresh cream
50 g grated parmesan cheese
1 sachet of saffron
Salt, pepper and extra virgin olive oil
Marjoram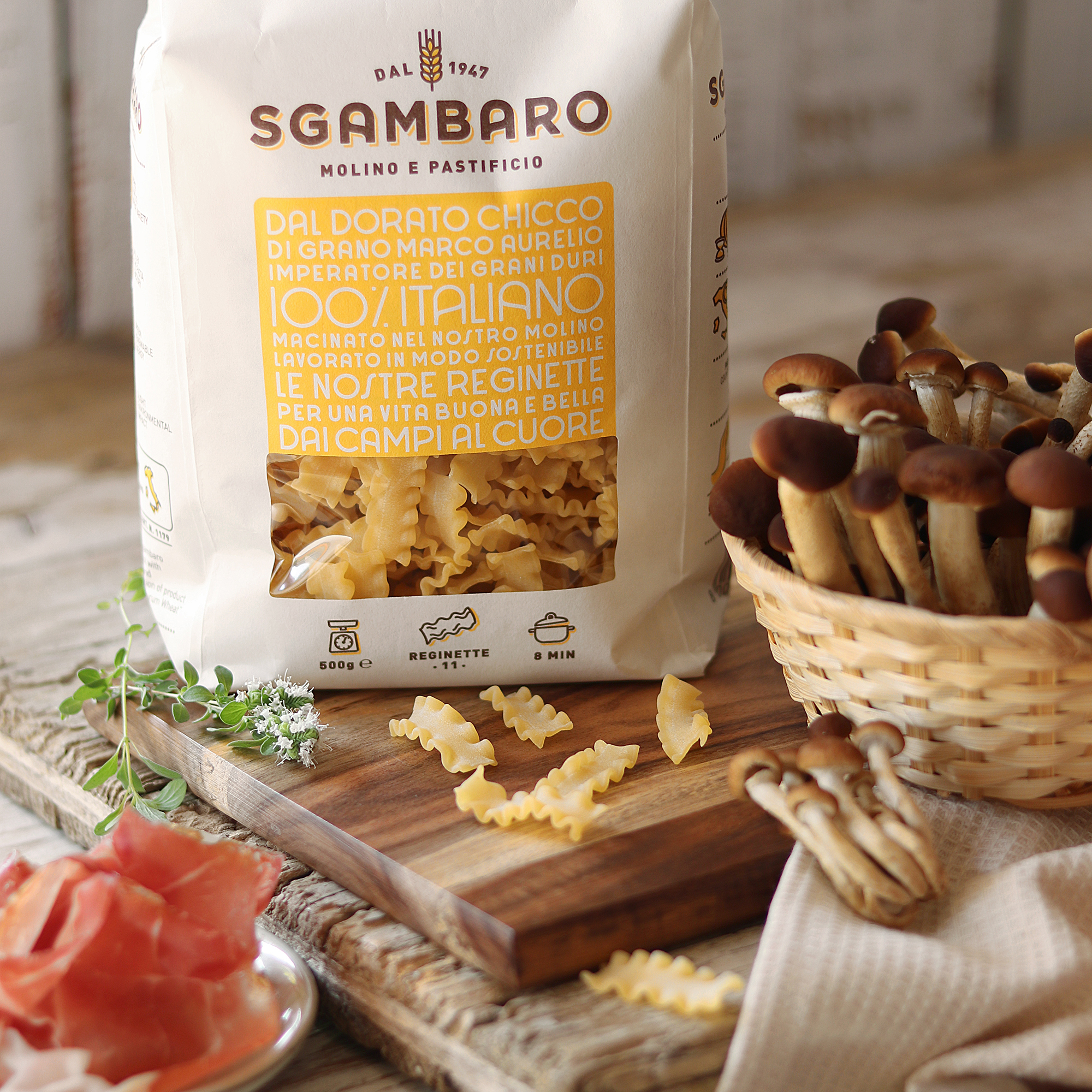 Preparation
First clean the mushrooms; cut off the stems and wash them to remove any soil, drain them and slice them. Sauté them over a high flame in a pan with a drizzle of oil, a clove of chopped garlic and salt to taste. Switch off the flame and set them aside. In another pan, cook the sliced speck for a few minutes.
Now prepare the saffron cream; in a pan place the creamy cheese, the fresh cream, the grated parmesan cheese and the saffron, mix all of the ingredients over a low flame. If necessary, add some of the pasta cooking water.
Cook the Reginette in plenty of salted water and strain it. Add the pasta to the pan, with the mushrooms, and mix.
On a plate, spread the saffron cream, place the Reginette with mushrooms and speck on it. Drizzle with extra virgin olive oil and serve with ground pepper. Dress with a few marjoram leaves.
Tiziana Ricciardi (aka deliziosavirtu)
Digital content creator, photographer, food writer and blogger
https://www.deliziosavirtu.it/
https://www.facebook.com/blogdeliziosavirtu
https://www.instagram.com/deliziosavirtu/
You might be interested in