Whole wheat Penne Rigate in Red sauce
25 / 06 / 20

And here's a new, good and healthy recipe based on Sgambaro Bio Label Pasta. Today we use 100% Italian durum whole wheat Penne Rigate. Good, rich in B vitamins and folates, mineral salts – such as magnesium, potassium, iron and phosphorus – proteins and above all fibres, crucial because, while they slow down gastric emptying, they induce an early sense of satiety and help control changes in blood sugar and hunger cravings between meals. To make it completely healthy, we combine a sauce made with red vegetables, an energetic and vital colour, stimulating and invigorating of the first chakra, the energetic wheel related to concepts of safety, solidity, survival and closely linked to the primordial forces of the Earth. The red and relative hues in fruit and vegetable, from orange to purple, reveal the presence of polyphenols, anthocyanins and carotenoids. Real natural pigments, they represent a precious source of antioxidants which greatly help in maintaining whole body well-being. Adding a daily portion of red foods (tomatoes, cherries, strawberries, raspberries, peppers, onions, radishes, etc.) helps: protect against the oxidative stress our skin is constantly exposed to; the inflammatory activity against cerebral degenerative processes; strengthen the circulatory system (veins and capillaries).
But now, let's go to the kitchen!
Serves 4
250 grams of Sgambaro Bio Label Penne Rigate with organic hulled durum whole wheat
1 red pepper
20 cherry tomatoes
1/2 red onion or a handful of radishes
50/60 grams of red lentils
For the lemon vinaigrette (I prepare it following these doses and, if any is left over, I store it in the fridge for 2 or 3 days to season salads):
60 grams of extra virgin olive oil
40 grams of lemon juice
Crushed fresh pepper
Procedure
Rinse the lentils well and boil them for about 15 minutes. Strain, add a bit of oil and leave them to cool.
Heat the oil with a garlic clove in a pan at low flame. When you start to smell the oil, add the cherry tomatoes cut in half, season with a pinch of salt and half a teaspoon of whole cane sugar. Cook for a few minutes until the cherry tomatoes soften, without however letting the peel come off the pulp; when finished cooking, sprinkle with oregano.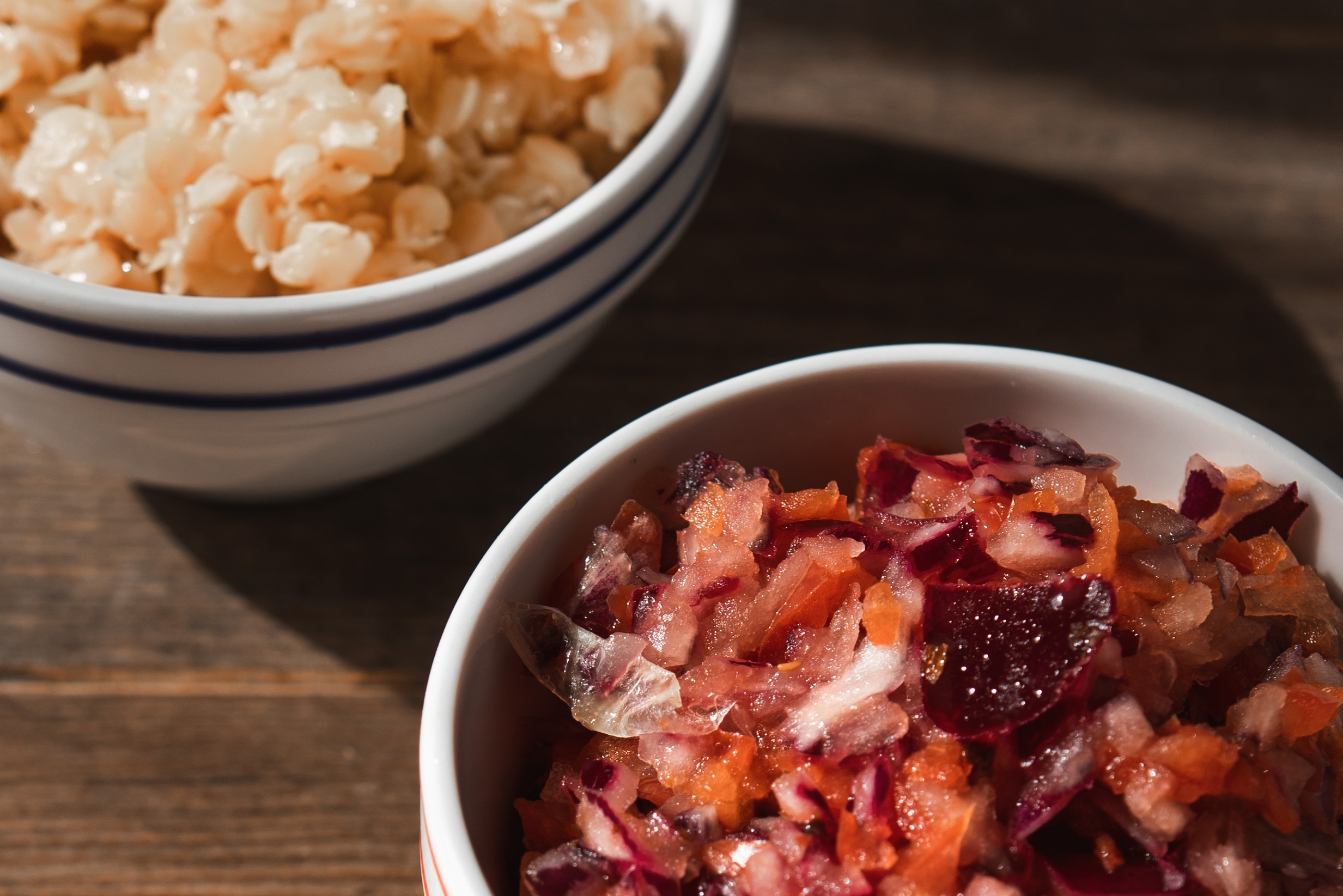 Grate the pepper and onion (or radishes) on the side.
Prepare the lemon vinaigrette, emulsifying the oil with the lemon and crushed pepper.
Cook the pasta in plenty of salted water, following the cooking times, strain and pour into a bowl. Then first add the lentils, then the peppers and onion and finally the lemon vinaigrette. Mix well.
Then add the cherry tomatoes cooked in the pan and serve the pasta lukewarm or even cold.
Enjoy your meal!
You might be interested in