Recipe by Federica Pennacchioni
This dish is very easy and quick to make, and it is delicious! The ideal lunch when you have very little time but are very hungry! The sauce is made with sun-dried tomatoes, olives and radicchio and is to be tossed in a pan for just a few minutes so that it remains slightly crunchy and doesn't become bitter.
We accompanied it with the delicious Sgambaro hulled durum whole wheat Trivelline pasta: made from 100% Italian organic wheat, mostly cultivated in Puglia. It cooks quickly and perfectly, without overcooking, and is ideal for this recipe and many others.
From the same Sgambaro organic line, you can also try the Trivelline made from 100% Italian spelt, lentil and quinoa semolina, which are also special in taste, rich in fibre and vegetable protein, and also ensure perfect cooking. Choose your favourite cereal and start cooking!
Ingredients (serves 4)
320 g Sgambaro Organic Label Trivelline
​​100 g radicchio
60 g sun-dried tomatoes in oil
50 g green olives
40 g walnuts
EVOO
Preparation
Heat the finely chopped sun-dried tomatoes, walnuts, green olives and EVOO in a non-stick pan for 2 minutes.
Wash and cut the radicchio into strips, put it in the pan and sauté until it has softened completely (5 minutes is enough). Add the al dente Trivelline and mix the ingredients together for a minute. Serve hot and enjoy!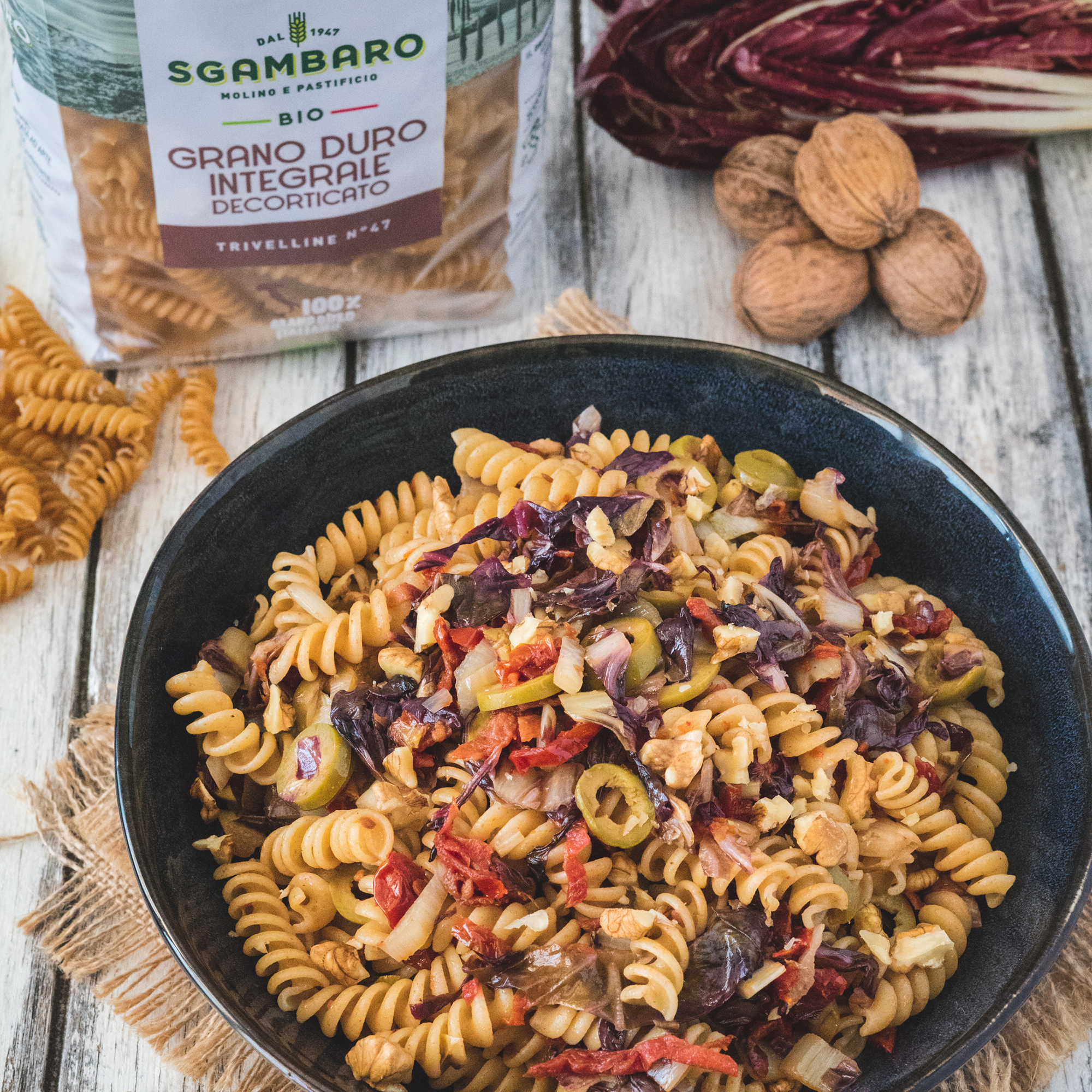 Federica Pennacchioni
Biologist specialised in vegetarian nutrition and dietetics
Co-founder of www.ilgolosomangiarsano.it
https://www.facebook.com/ilgolosomangiarsano
https://www.instagram.com/ilgolosomangiarsano/
You might be interested in