Today we are landing amidst the fragrances and flavours of Sicily, proposing a symbol of the island's cuisine: pasta alla norma! A tasty dish dressed with a fresh tomato sauce and fried aubergine, strictly sliced, true to tradition. We add garlic cloves, fresh basil leaves and obviously a generous amount of grated salted sheep ricotta, strictly Sicilian, directly onto the dishes.
Ingredients
Bio Einkorn Wheat Tortiglioni
Aubergine (violet)
Salted sheep ricotta (Sicilian) 150 g
Fine salt, to taste
FOR THE SAUCE
Fluted tomato (Catanese variety, ripe) 1.5 kg
Garlic 4 cloves
Fine salt, to taste
Basil, 1 bunch
FOR FRYING
Extra virgin olive oil, as needed
METHOD
To prepare pasta alla norma the first thing is to wash and dry the aubergine well, cut off the ends and cut it into slices about 8mm thick, to then transfer them into a strainer. Sprinkle the slices to salt them for at least 15 minutes.
In the meantime, prepare the tomatoes: wash them and remove the stem and cut them in half.
Put the tomatoes into a pot, with a pinch of salt and 3 cloves of garlic (you can use less if you prefer but it distinguishes pasta alla Norma) and a bunch of basil. Let it cook for 30 minutes over a low flame without adding anything else, so that the tomatoes cook in their own water. Then remove the garlic and basil and pour the tomatoes into a food mill with a fine hole size and mince them.
Once you have obtained your paste, transfer it to a pan, add yet another clove of garlic and a sprig of basil. Let it cook for another 40 minutes, stirring every now and then.
After 15 minutes you can rinse the aubergine slices well and pat them dry with paper towel. Then pour the extra virgin olive oil into a pot with high edges and heat to 170-180°. Add few slices to the oil at a time and turn them over every now and then. It will take a few minutes for them to turn golden brown, at this point strain them with tongs and place them on a tray lined with paper towel. Continue frying the aubergine and in the meantime place a pot full of water over the flame, to cook the pasta.
When the sauce is quite thick, remove the basil, add a spoonful of the aubergine frying oil and a drizzle of raw oil. Cook the pasta al dente, strain it and add it to the sauce, then sauté it quickly to dress it.
Plate the pasta, add the fried aubergine, add a generous amount of grated salted sheep ricotta, a basil leaf and voilà, serve your pasta alla Norma!
Enjoy your meal!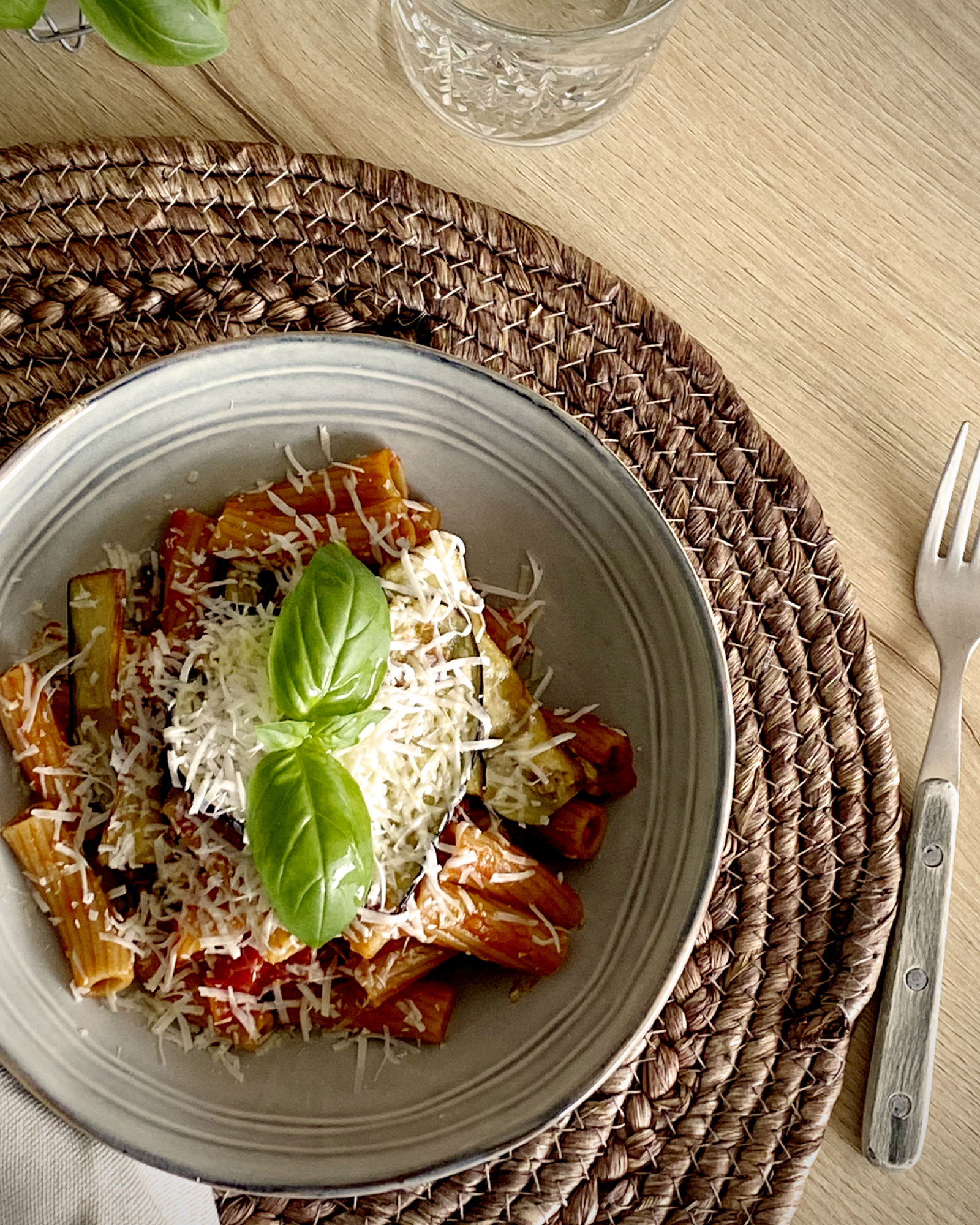 Watch the video of the recipe
You might be interested in