Emmer wheat fettuccine with courgette pesto, goat's cheese and crisp crumbs
23 / 06 / 22
Emmer wheat fettuccine with courgette pesto, goat's cheese and crisp crumbs is a simple and very tasty dish, perfect for the season. Do you love courgettes? Then this dish is a must! Courgette pesto is a very fresh and fragrant dressing, prepared here with almonds and mint.
Sgambaro Bio Label emmer wheat fettuccine (link to shop product) are perfect for capturing this dressing.
One of the oldest grains rich in mineral salts, vitamins and beta-glucans, emmer wheat has a low glycaemic index which makes it particularly suitable for those who play sports.
We have completed the dish with a dollop of goat's cheese to add creaminess and we finished it off with toasted breadcrumbs for a hint of a crunch.
An appetising dish that will win you over at the first bite!
Ingredients
serves 4
320 g of Sgambaro emmer wheat fettuccine
400 g courgettes
40 g grated parmesan cheese
40 g blanched almonds
10 mint leaves
1\2 garlic clove
2 slices of bread
160 g goat's cheese
extra virgin olive oil
salt and pepper
Method
For the courgette pesto, in a pan, add a drizzle of extra virgin olive oil, chopped garlic and washed sliced courgettes. Let it cook for about 10 minutes over a low flame, add salt to taste. Once it has cooled, set aside two spoonfuls of courgette.
Blend the remaining courgettes with the blanched almonds, the grated parmesan and the mint leaves, adding a drizzle of olive oil until the mixture is well-blended.
Remove the crust from the two slices of bread; turn it into crumbs. Toast the crumbs in a pan with a drop of oil over a low flame until they are golden and crisp.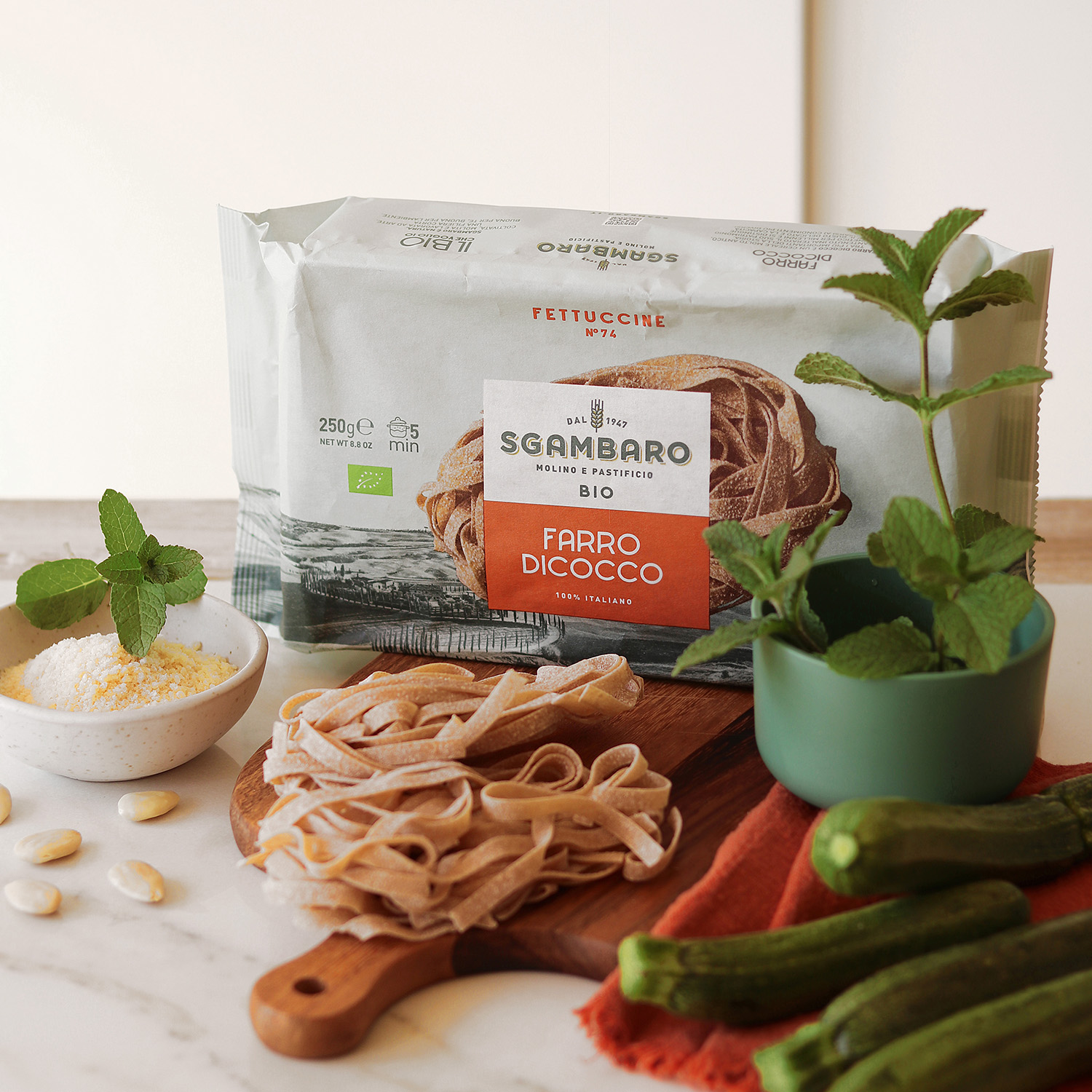 Cook the fettuccine in plenty of salted water. Before straining the pasta, set aside half a glass of cooking water.
Strain the fettuccine and add them to the pan with the courgette pesto. Mix and add a small amount of cooking water at a time until the fettuccine are well dressed.
Distribute the fettuccine on a plate and mix with the courgette pesto and serve with a dollop of goat's cheese and crisp crumbs. Drizzle with extra virgin olive oil and serve with ground pepper.
Enjoy your meal!
Article and recipe by Tiziana Ricciardi (IG @deliziosavirtu)
Digital content creator, photographer, food writer and blogger
https://www.deliziosavirtu.it/
https://www.facebook.com/blogdeliziosavirtu
You might be interested in