The Penne Rigate with pecorino cream, artichokes and crunchy bacon are a simple and very tasty first course.  
The creaminess of the pecorino cream, the crunchiness of the bacon and the sweet-bitter taste of the artichokes make for an utterly delicious dish. A classic at this time of year when artichokes are the stars of the season. All you need to do is choose excellent ingredients to obtain a surprising dish. For this dish, we recommend Yellow Label Penne Rigate (link shop) which are bronze-drawn to perfectly hold the sauce.
Ingredients
serves 4
320 g di  Sgambaro Penne Rigate
5 artichokes
150 g grated Pecorino Romano
100 g milk
100 g fresh cream
50 g sweet bacon
1/2 glass of white wine
1 garlic clove
chopped parsley
extra virgin olive oil 
salt and pepper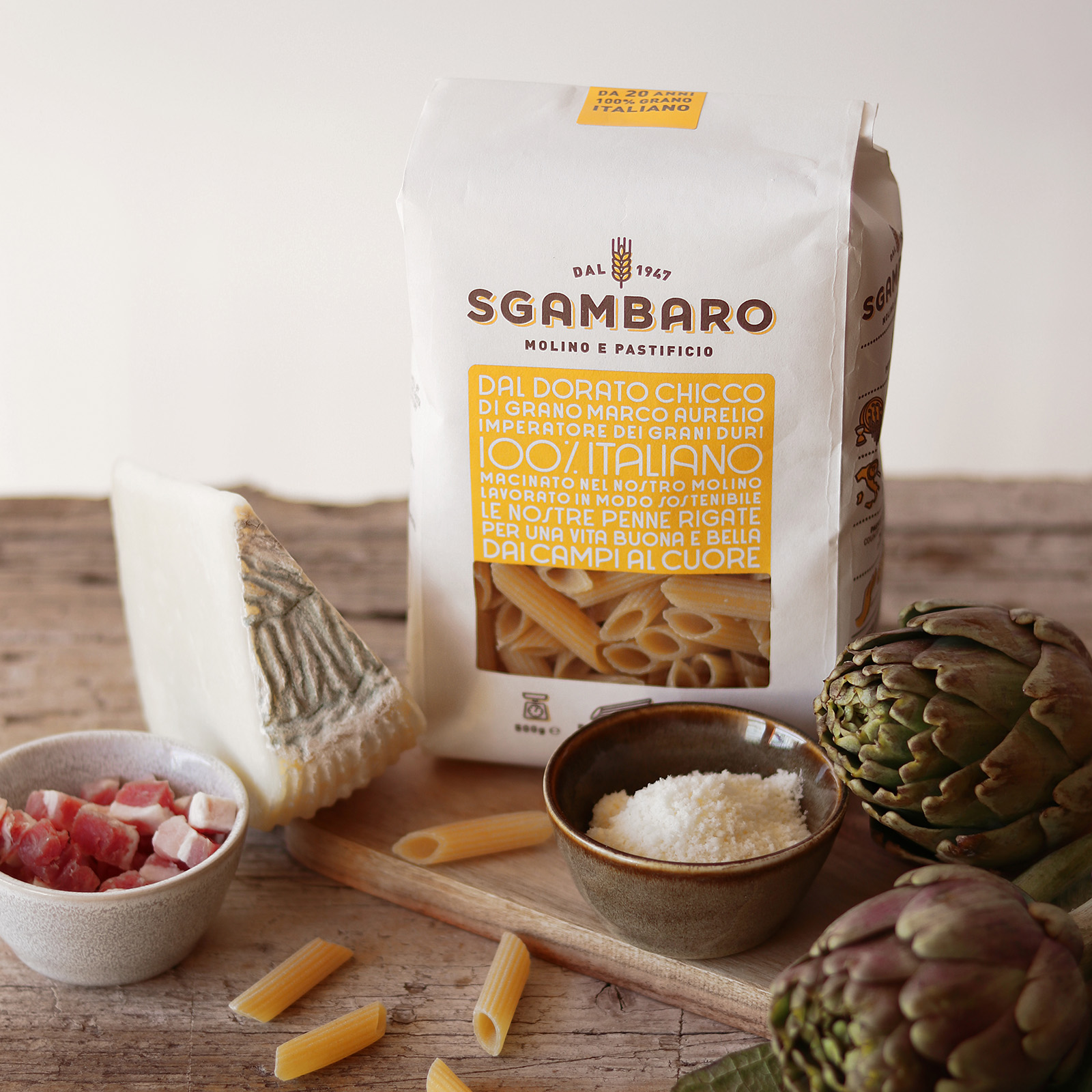 Method
First of all, clean the artichokes, remove the harder outer leaves, the tips and the stalks. Halve them, scrape away the hairy centre and cut into wedges. Soak them in water and lemon to stop them from blackening. In a pan, prepare extra virgin olive oil, minced garlic, add the artichoke wedges after draining them well, add salt and pepper to taste, brown for a few minutes then deglaze with the white wine. Cover and cook on a low flame. If necessary, add half a glass of water, check if done and remove from the heat. Add the chopped parsley and stir.
Saute the diced bacon in a pan and when done, add it to the pan with the artichokes and stir.
Put the milk and cream in a small saucepan and heat gently. Add the grated pecorino and whisk to dissolve any lumps. Cook in a double boiler until the cream is done.
Cook the Penne Rigate in plenty of salted water. Before draining them, set aside half a glass of cooking water.
Drain the Penne and add them to the pan with the pecorino cream. Stir and add a little cooking water at a time until all the cream is combined.  
Plate the Penne Rigate in pecorino cream and garnish with artichokes and crunchy bacon. Drizzle with extra virgin olive oil and serve with freshly ground pepper. 
Enjoy your meal!
Article and recipe by Tiziana Ricciardi (IG @deliziosavirtu)
Digital content creator, photographer, food writer and blogger
https://www.deliziosavirtu.it/
You might be interested in