Lumache with beef sauce and porcini mushrooms with Malga alpine cheese shavings
30 / 08 / 21
September in Italy is a wonderful month, with mild temperatures and sunshine. The sea can be enjoyed as it slowly empties; increasingly calmer and more serene with the evening breeze that accompanies the last toasts of tourists in restaurants and crumbling the last remaining castles on the beach. On the other hand, up in the mountains, the damp forests smell of mushrooms and people compete to find the biggest and best ones, keeping the places with the most treasures top-secret. Today, we will put a few in our Yellow Label Lumache pasta for a beef and porcini mushroom sauce that is ideal to serve this month rich with special gifts from our land!
Ingredients (serves 2)
160 g Sgambaro Yellow Label Lumache
150 g ground beef
150 g fresh porcini mushrooms
20 g shavings of aged cheese
1 glass of red wine
2 tablespoons triple concentrated tomato paste
1 carrot
1 celery stalk
1 small onion
Mixed fresh herbs
EVOO, salt and pepper
Preparation
First of all, prepare the meat sauce: chop the carrot, celery and onion and sauté them in a large saucepan with a drizzle of oil. Add a bouquet of fresh herbs such as thyme, bay leaf, rosemary and sage, tied together with food-grade string. Then add the ground beef and brown until it dries up, add the diced porcini mushrooms and let them cook for a few minutes. Deglaze with red wine and let it reduce. Add the tomato concentrate and mix well. Dilute the sauce with about three glasses of water and let it simmer on a low heat for two hours.
Bring plenty of water to the boil, add salt and throw in the Lumache. Drain them directly into the meat sauce and mix well. Garnish the dish with savings of aged cheese!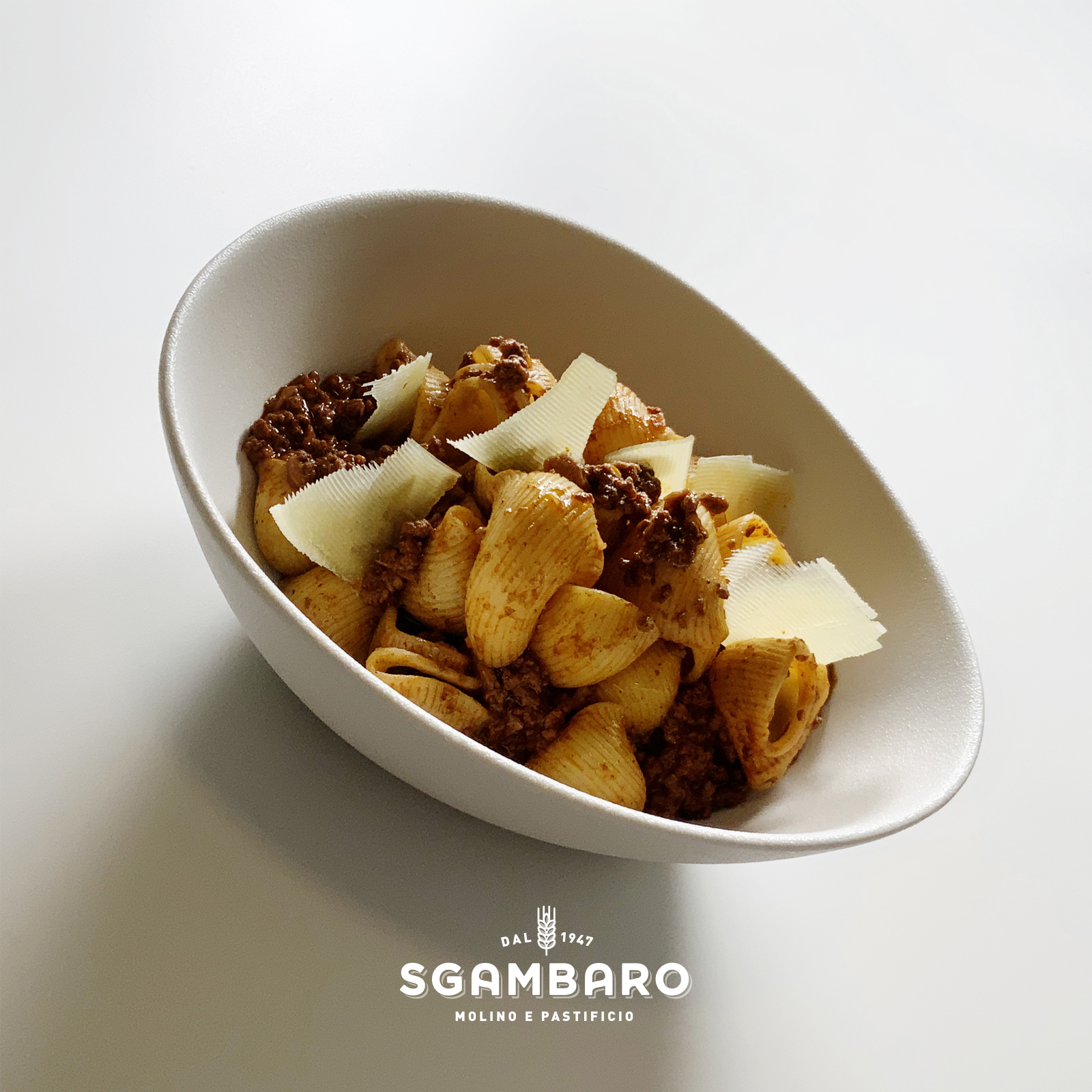 You might be interested in